Living in Denmark as a foreigner isn't as great a challenge as in other parts of Europe, given the high levels of English spoken across the country. However its expensive reputation will understandably put many digital nomads and remote workers off. We're going to take a look at some of the cheapest places to live in Denmark and best cities to base yourself in.
The cost of living in Denmark has risen in recent years with inflation rising rapidly in 2022 before settling in 2023. However similar trends have been experienced across Europe so this is by no means specific to this small Nordic nation which has the Danish Krone as its currency rather than the Euro.
Table of Contents
---
5 of the Best Cities to Live in Denmark & Work Remotely
---
1. Silkeborg
Known as Denmark's outdoor capital, Silkeborg is a charming city located in the central part of the country. The real highlight is its natural surroundings which include forests, lakes and the Gudena River, Denmark's longest, which flows through a town that is home to just under 45,000 people.
As a result of its location, there are loads of options for getting out and exploring the nature with plenty of nice spots for hiking, biking, fishing and picnicking. During the warmer summer months, you can even swim, sail and kayak on the lakes.
As for the city itself, there is a small cultural scene with the Silkeborg Museum a standout attraction while there are a number of annual festivals and events like Silkeborg Art Week.
The other big positive is its relative affordability. The cost of living in Silkeborg is below the national average and significantly less than in the capital Copenhagen which contributes to making this one of the best places to live in Denmark if you're working remotely.
Estimated living costs in Silkeborg (explanation at the bottom) – 1150-1750 Euros/month (8500-13000 Danish Krone)
---
2. Viborg
Along with Silkeborg, Viborg is one of the least expensive cities in Denmark and another great option for digital nomads hoping to experience life in a Nordic nation without having to contend with extremely high living costs.
It is a historic city, also located in Central Denmark of a similar size to Silkeborg. However it's a prettier city, famous for its architecture and well-preserved medieval buildings, most notably the 12th Century cathedral and castle, which is now a museum, offering great insights into the city's past.
You'll also have access to lakes, forests, and rolling hills if you base yourself here with the nearby Hald Lake, a popular spot for getting a bit of peace and quiet, although the city itself has many parks and green spaces if you don't want to go far.
Viborg is considered to have a high quality of life with a range of amenities and services and strong basic infrastructure, including a good public transport system, although it's small enough that you'll mostly be able to get around on foot.
Estimated living costs in Viborg – 1150-1750 Euros/month (8500-13000 Danish Krone)
---
3. Aarhus
There are relatively few options for what might be described as "big city" living in Denmark outside of Copenhagen. Aalborg, Odense and Aarhus are the only other cities with a population of over 100,000 with the latter the largest and arguably most enticing of the three.
Denmark's second city is located on the eastern coast of the Jutland Peninsula. It's a vibrant university town, home to Aarhus University, a big factor in creating a youthful atmosphere and it's a great city for students which does in turn mean there are lots of options for cheaper bars and places to eat which can really benefit budget-minded remote workers too.
The city's waterfront area, known as Aarhus Ø, is one of the highlights, particularly after the extensive redevelopment it has undergone in recent years. It features modern buildings and loads of trendy cafes where you can spend a few hours and get some work done or just hang out. There's even a swimming area which is popular during the summer months.
Getting around Aarhus does take a bit longer than in somewhere like Viborg due to its larger size but there is a well-developed cycling system, making it really easy to get around by bike while there are also buses and light rail networks.
Estimated living costs in Aarhus – 1500-2200 Euros/month (11000-16500 Danish Krone)
---
4. Copenhagen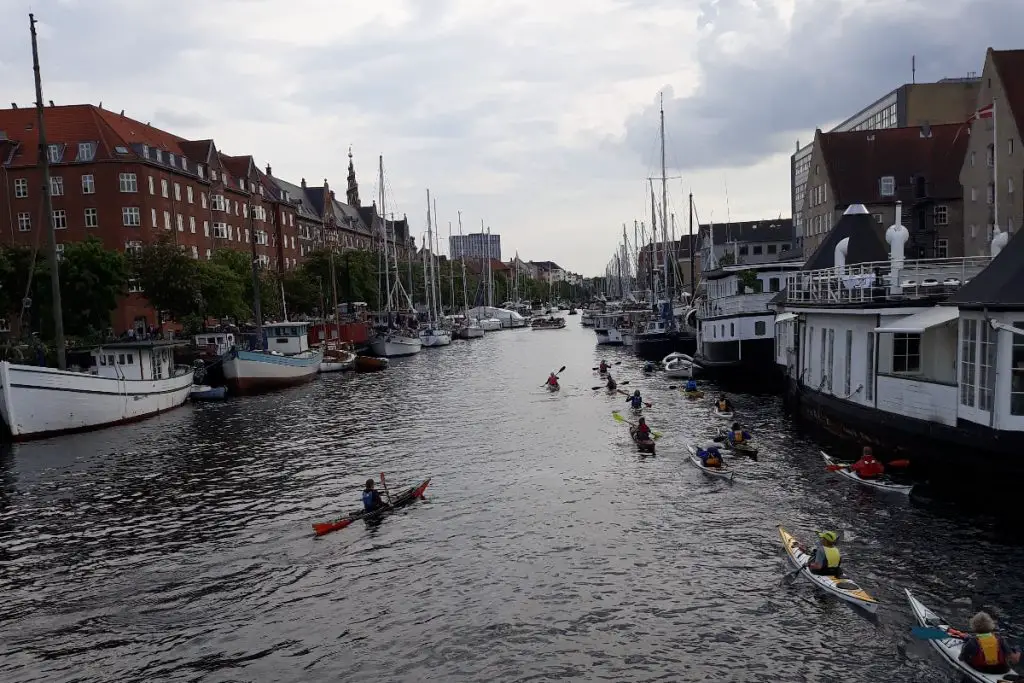 The high cost of living in Copenhagen, Denmark's most expensive city, makes it a less appealing option for remote workers hoping to save money. It ranks among the most expensive cities in Europe with higher costs than all of the best places to live in Germany for example while it's also pricier than Stockholm, the Swedish capital.
Living in Copenhagen does have many advantages though and it offers a lifestyle that isn't really possible elsewhere in the country. It frequently ranks among the world's most livable cities due to its excellent infrastructure and public transportation, as well a focus on sustainability with bicycle-friendly Copenhagen aiming to become the world's first carbon-neutral capital city by 2025.
While there may be more beautiful old cities in Scandinavia, Copenhagen does have a nice blend of historic buildings and cutting edge modern design. Its most famous area is the iconic Nyhavn waterfront which is frequently the poster child for all things travel in Denmark, but the city is built around a sprawling network of canals which offers plenty of other nice waterside spots to relax, have a cold Danish beer and something to eat.
In terms of recreational opportunities, Copenhagen doesn't disappoint either with many beautiful parks and green spaces, including the King's Garden and the famous Tivoli Gardens amusement park.
Estimated living costs in Copenhagen – 1700-2600 Euros/month (12500-19500 Danish Krone)
---
5. Aalborg
Finally we head to Aalborg, Denmark's fourth largest city and another of its most liveable. Living costs are significantly lower in Aalborg than in Copenhagen and a bit less than Aarhus for most people, although it will depend on your lifestyle and living arrangements.
The city's old town, known as "Jomfru Ane Gade," is a fun area to spend time, by day or by night with numerous bars, restaurants, and nightlife offerings. This is another university town which draws in students from around the world and there is an international feel to Aalborg which should help foreigners settle and feel at home quite quickly.
The Limfjord, a narrow strait which runs through the city, serves up opportunities for many water based activities and boasts a revitalised waterfront which is great for a long stroll. 
Transportation within Aalborg is also quick and convenient, with buses, trains and is in most Danish cities, a strong cycling culture.
Estimated living costs in Aalborg – 1400-2100 Euros/month (10500-15500 Danish Krone)
---
Moving to Denmark – Useful Resources
---
What are the Cheapest Cities to Live in Denmark?
| | |
| --- | --- |
| City | Estimated Cost of living in Denmark in Euros (Monthly) |
| Copenhagen | 1700-2600 |
| Frederiksberg | 1600-2400 |
| Odense | 1500-2300 |
| Naestved | 1500-2300 |
| Aarhus | 1500-2200 |
| Roskilde | 1400-2100 |
| Aalborg | 1400-2100 |
| Fredericia | 1350-2050 |
| Randers | 1300-2000 |
| Horsens | 1300-1900 |
| Silkeborg | 1150-1750 |
| Viborg | 1150-1750 |
High costs and a chilly climate, the main disadvantages of living in Denmark, mean the country is not one of the most popular digital nomad destinations in Europe, but as the table above demonstrates, you can find reasonable value by basing yourself in a cheaper city like SIlkeborg or Viborg.
Even those places are pretty expensive when compared to much of Europe though and you can find much better value across the South of the continent with even the most desirable cities to live in Greece much more affordable for example while the cheapest places to live in Finland also offer slightly better value.. 
If you're coming from North America, comparing the cost of living in Denmark vs the US, you may be able to make some small savings with some of the smaller Danish cities significantly cheaper than their US counterparts.
A benchmark figure for the living cost in Denmark per month may be in the region of 1500-2000 Euros (11000-15000) for a single person. Even in Copenhagen, the most expensive Danish city, you can get by on that much if you're willing to share a flat with others, although high average rents can make life tough for those looking to have their own place.
Denmark Estimated Living Costs Calculation:
To help calculate the cost of living in Denmark in the table and the cities featured above, we relied on Numbeo's cost of living data for a bit of guidance. However bear in mind that the amount of money you need to live comfortably in Denmark will vary greatly according to your individual lifestyle and preferences.
For each city, we've referenced a lower and upper figure. The lower figure might be a possible budget for students in Denmark or young people living in a flatshare. The upper figure would offer much more freedom in terms of your accommodation and entertainment options. 
In both cases it is designed to cover the cost of rented accommodation and all typical living costs. Digital nomads in Denmark for just a few months or less, may want to increase their budget slightly as you'll most likely have to pay a bit more to rent a flat for a period of weeks or months rather than long-term.
The Best Places to Live in Denmark & the Cheapest Cities