One of Europe's coldest and northernmost countries, Finland may not be an obvious location for digital nomads. However, in many respects it's actually very well suited to those leading a remote lifestyle with a strong focus on work-life balance and outstanding digital infrastructure among the perks of life there. Here's a look at some of the cheapest places to live in Finland and best cities to base yourself in.
Finland is not cheap to live in, but it's more affordable than some of its Nordic neighbours and salaries are relatively high in most professions. Interest in living and working permanent jobs in Finland is also growing amongst foreigners with shortages in many work sectors, particularly in healthcare as of late 2023.
Table of Contents
---
5 of the Best Cities to Live in Finland & Work Remotely
---
1. Turku
Located on the southwest coast of Finland, Turku is an attractive option for digital nomads. The city is known for its focus on innovation and technology and boasts good internet connectivity, modern facilities and a wide range of coworking spaces.
It forms part of the third largest urban area in Finland with a population of nearly 300,000 so it's a sizable place with more going on than a lot of smaller Finnish cities. It has many cultural quirks and attractions with a variety of museums, galleries, and annual events.
Turku also boasts a beautiful archipelago which offers up opportunities for outdoor activities and relaxation during the summer months, although like all of Finland, the big freeze does limit winter options.
In terms of expenses, Turku is pretty typical when it comes to the cost of living in Finland. It's more affordable than a number of cities that are considerably less interesting places to live in, so it's a good all-round option for nomads and remote workers looking for a mixture of affordability and a high quality of life.
Estimated living costs in Turku (explanation at the bottom) – 1150-1750 Euros/month
---
2. Helsinki
By far the largest city in Finland, Helsinki is the capital and most obvious choice for those looking for urban life in this curious country that is better known for its national parks and magical Lapland region than its major towns and cities.
Helsinki has plenty going for it though and manages to blend modern, urban districts with natural beauty as its numerous parks and waterfront areas merge into city streets and residential neighbourhoods. It's also one of the safest capitals in Europe with very low crime rates.
It boasts an efficient public transportation system and increasingly a focus on sustainability and innovation, making it an attractive location for those interested in starting their own business or just making connections.
It's certainly one of the best places to live in Finland, almost regardless of your circumstances, although the main disadvantage is the high cost of living with the Helsinki metropolitan area the priciest part of the country.
Estimated living costs in Helsinki – 1350-2050 Euros/month
---
3. Tampere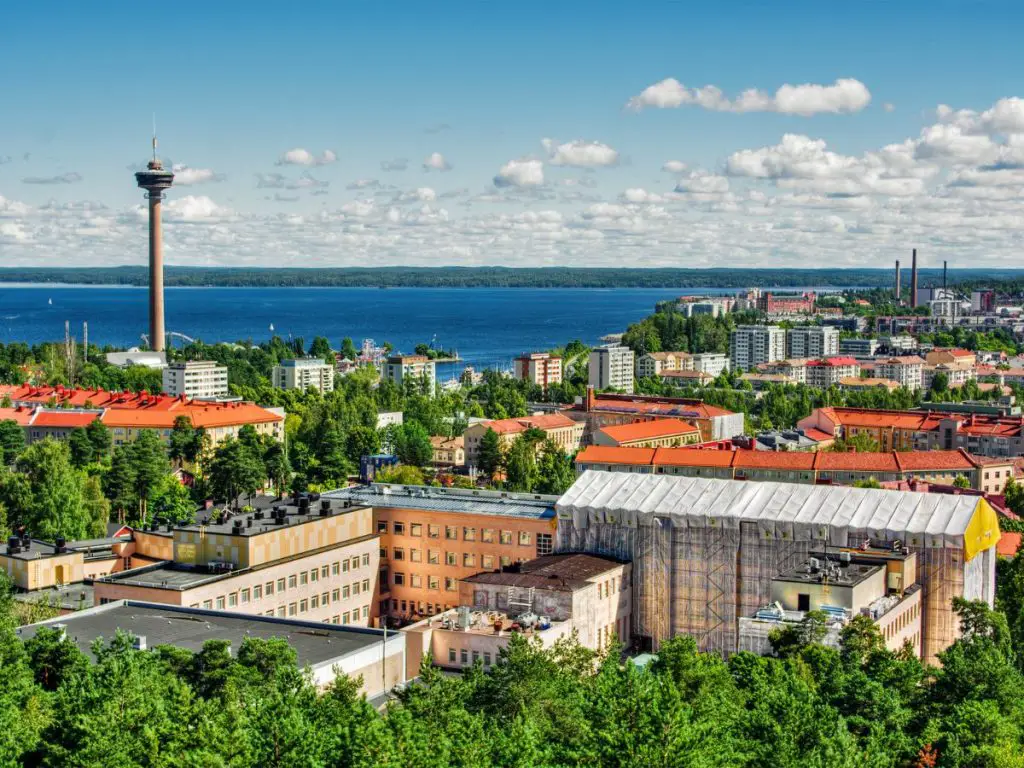 Tampere is another of the major Finnish cities, although unlike Helsinki and Turku, it is not situated on the coast. It does though boast great access to water thanks to its location between the Nasijarvi and Pyhajarvi Lakes. Its historical centre is based around the Tammerkoski Rapids, regarded as the birthplace of Finnish industry.
The ease with which you can get out and explore the nature in and around Tampere is certainly one of the big attractions to the city. Watching the distinctive seasonal shifts take place as the freezing winter ultimately makes way for the greenery of spring and eventually the long, sunny summer days with sunsets of 11:00 p.m. and sunrises of 3:00 a.m. around the summer solstice.
In terms of living costs, Tampere is good value and considerably cheaper than Helsinki which can be reached in just under two hours by rail or just over two hours by road.
Estimated living costs in Tampere – 1100-1700 Euros/month
---
4. Rovaniemi
If you're even considering living in Finland, you're most likely at least tolerant of the cold, with sub-zero temperatures throughout the winter the norm in every Finnish city. However if you really want to take things to extremes and experience everything that's positive and negative about living this far north, consider making it all the way to Lapland and the city of Rovaniemi.
Rovaniemi experiences average lows of around -13°C in the winter months and the sun doesn't rise at all on the shortest day of the year in December with the city located right on the Arctic Circle.
It's not all bad though. Living in Rovaniemi, even if it's only for a short time, is a truly unique experience no matter what time of year it is. Best known for being the hometown of Santa Claus, the city turns into a magical winter wonderland around Christmas and offers a good chance of viewing the Northern Lights as well as skiing opportunities.
Come in the summer and you can enjoy near total daylight and get out and enjoy the region's many forests and rivers with considerably more comfortable temperatures.
Estimated living costs in Rovaniemi – 1050-1550 Euros/month
---
5. Oulu
The city of Oulu is much closer to Rovaniemi than it is to Helsinki and Turku, which means it's another place with extreme seasonal shifts when it comes to the length of the day and overall temperatures.
It is much bigger than Rovaniemi though and has more of the feel of a regular city. In fact, outside of Russia, it is the northernmost city in the world with over 100,000 inhabitants and is loosely considered to be the capital of Northern Finland.
It's another curious place to live and has been described as one of Europe's so-called "smart cities" or "living labs", where residents are able to experiment with new technology on a large scale. 
In the dawning age of AI, it'll be interesting to see how that develops and it could be a fascinating city to experience life in if you're tech-focused and want to see what direction the world may be heading in.
Estimated living costs in Oulu – 1150-1750 Euros/month
---
Moving to Finland – Useful Resources
---
What are the Cheapest Cities to Live in Finland?
| | |
| --- | --- |
| City | Estimated Cost of Living (Monthly in Euros) |
| Espoo | 1450-2150 |
| Helsinki | 1350-2050 |
| Pori | 1250-1800 |
| Porvoo | 1250-1800 |
| Kuopio | 1200-1800 |
| Jyvaskyla | 1150-1750 |
| Oulu | 1150-1750 |
| Lahti | 1150-1750 |
| Turku | 1150-1750 |
| Hameenlinna | 1150-1750 |
| Tampere | 1100-1700 |
| Vaasa | 1100-1700 |
| Kokkola | 1100-1600 |
| Rovaniemi | 1050-1550 |
| Seinajoki | 1000-1500 |
There are notable gaps between the cheapest cities to live in Finland and the most expensive. Of the largest cities in the country (where sufficient data was available), Seinajoki ranked as the cheapest city to live in Finland according to our estimates.
Living costs in Helsinki were higher than everywhere with the exception of Espoo, a leafy city which lies within the Helsinki urban area. Things do get more affordable when you leave the Helsinki area, although it's still a relatively expensive country, even by European standards.
Compared to its neighbours, Finland is certainly cheaper than Norway and offers slightly better value than the best places to live in Denmark. There's not a lot of difference when comparing average Finnish cities to their Swedish counterparts while it remains more affordable than Estonia, located just a short ferry ride across the Baltic Sea.
It's also worth noting that unlike many of its neighbours which have their own currencies, Finland does use the Euro.
Finland Estimated Living Costs Calculation:
To help calculate the cost of living in Finland for a single person in the table and the cities featured above, we used Numbeo's data to help. The estimated living costs are designed to be a guide but should offer a means of comparison and highlight which are the cheapest and most expensive cities in Finland to live in. 
In each case, the lower figure quoted could be viewed as a potential budget for students or young people who are living in a flatshare and a bit savvy when it comes to what they spend. The upper figure meanwhile may be more suitable for those hoping to find their own flat.
In both cases, it is designed to cover the cost of rented accommodation. An average rent in Finland may be €400-1000 depending on location and whether you're sharing with others. It also attempts to factor in all living costs, although clearly that will vary a lot depending on each individual lifestyle.
The Best Places to Live in Finland & the Cheapest Cities